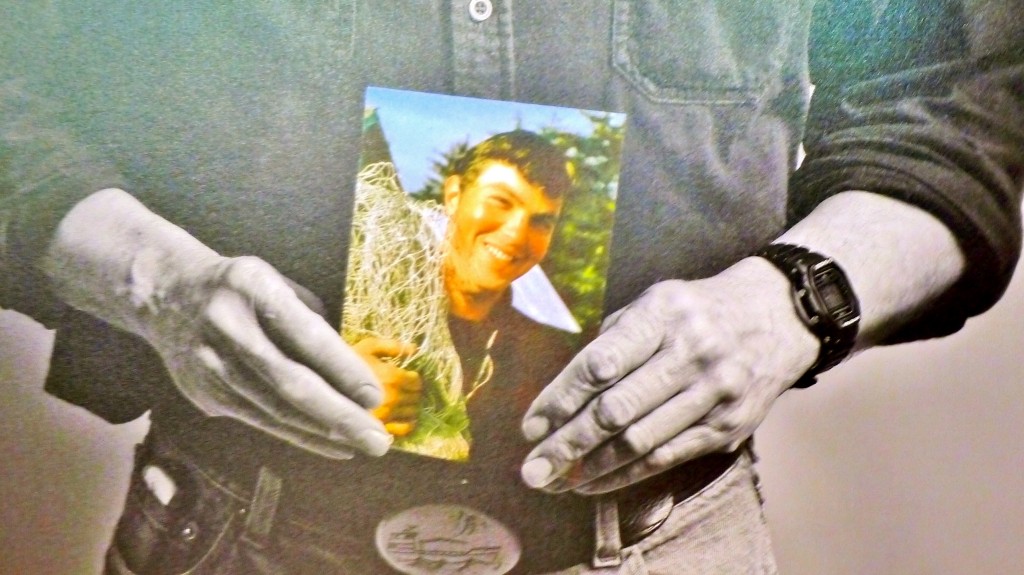 I visited Loussac Library this evening, and spend a bit of time checking out a fascinating photography and oral history exhibit, "When Crab was King: Faces of the Kodiak King Crab Fishery 1950 – 1982."
The exhibit looks at the crab boom and bust in Kodiak.  For perspective, one year in the 1960s, 90 million pounds of king crab were harvested on Kodiak alone; recently, only 20 million pounds were harvested in all of the Bering Sea.
Here's the official description of the exhibit, which was put together by the Alaska Humanities Forum:
Produced by the Kodiak Maritime Museum, this exhibit features 24 large-format photographic portraits of fishermen, processing workers, Coast Guardsmen, bartenders, and ordinary people who experienced the king crab boom in Kodiak. Alf Pryor, a talented Kodiak photographer, created the images in the exhibit.
I wasn't able to participate in the oral history part of the exhibit, but I've been told it's fabulous and really easy to access – all you do is dial a number and select the photo you want to learn more about.  The exhibit will be at Loussac through the end of February though, so I'm hoping to make it back and spend some more time listening! But tonight, I just enjoyed the photos, which feature current portraits of people holding a photo of themselves from back during the crab king days, and the quotes:
"…I was young then, and didn't mind the rowdy." – Karen Loutensock
"During that time, the bars outnumbered the churches by quite a bit…" – Dr. Bob Johnson
"…It was just something that Kodiak boys do." – Marty Owen
If you want to experience the full exhibit, or just to read the quotes in their entirety (these are just teasers!) head over to Loussac!  Thank you Alaska Humanities Forum for putting together such a great exhibit and giving us a glimpse into a the crabbing heyday in Kodiak.