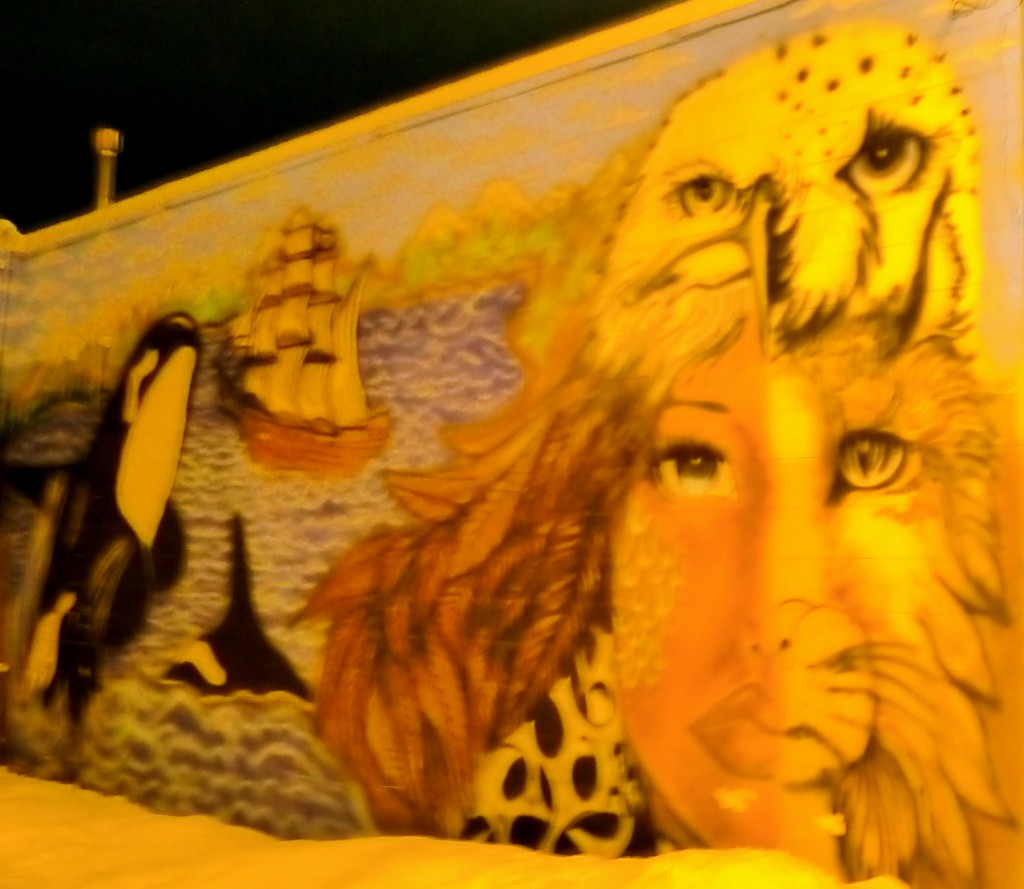 I visited Denver a few years ago and thought it was such a cool city. I loved walking through Lodo* (lower downtown) with lights twinkling above me, popping into an underground comedy club (where I saw one of the few comedians I actually thought was funny; I wish I remembered her name!), and sitting outside on restaurant patios sipping cold beverages and nibbling olives.
I signed up for a walking tour that blended history and city planning – it was utterly fascinating and Denver not only created a plan for the city, but actually executed it!  This is a big deal because so many well-intentioned planning documents end up sitting on a shelf in someone's office, gathering dust.
During the tour, I kept noticing design details/art tucked away in back alleys or subtly peeking out from around a corner. A favorite was a wall in an alley painted in a geometric black and white floral pattern. Another favorite were star-shaped metal accents decorating a plain brick wall. They looked like some sort of urban evening sky.
I'm sure the plan didn't specify where exact art elements should be added; I think that when cities invest in creating a framework for vibrant places and embrace design, it inspires people to do the same.  It's like when your neighbor mows their lawn – you suddenly look at your own lawn and want it to look just as good as theirs!
The photo above is a version of Anchorage's own alley art.  Maybe not my exact aesthetic, but I love that someone was inspired to create this!  Plus, the owl/lion/lady is FIERCE.
*Denver's downtown is home to the 16th Street Pedestrian Mall, a mile long promenade with restaurants, shops, fountains, small parks, historic buildings, and sky scrapers. It was filled with people night, noon, and even early morning. I wonder if something similar would work in Anchorage, maybe along 5th or 6th?  Do we have the population (residents or visitors) to support a project like this? I have no idea, but it's fun to think about!  That, and turning part of Ship Creek into a river walk, à la San Antonio (without slides and little boats)? Anyone?  Other random development thoughts?