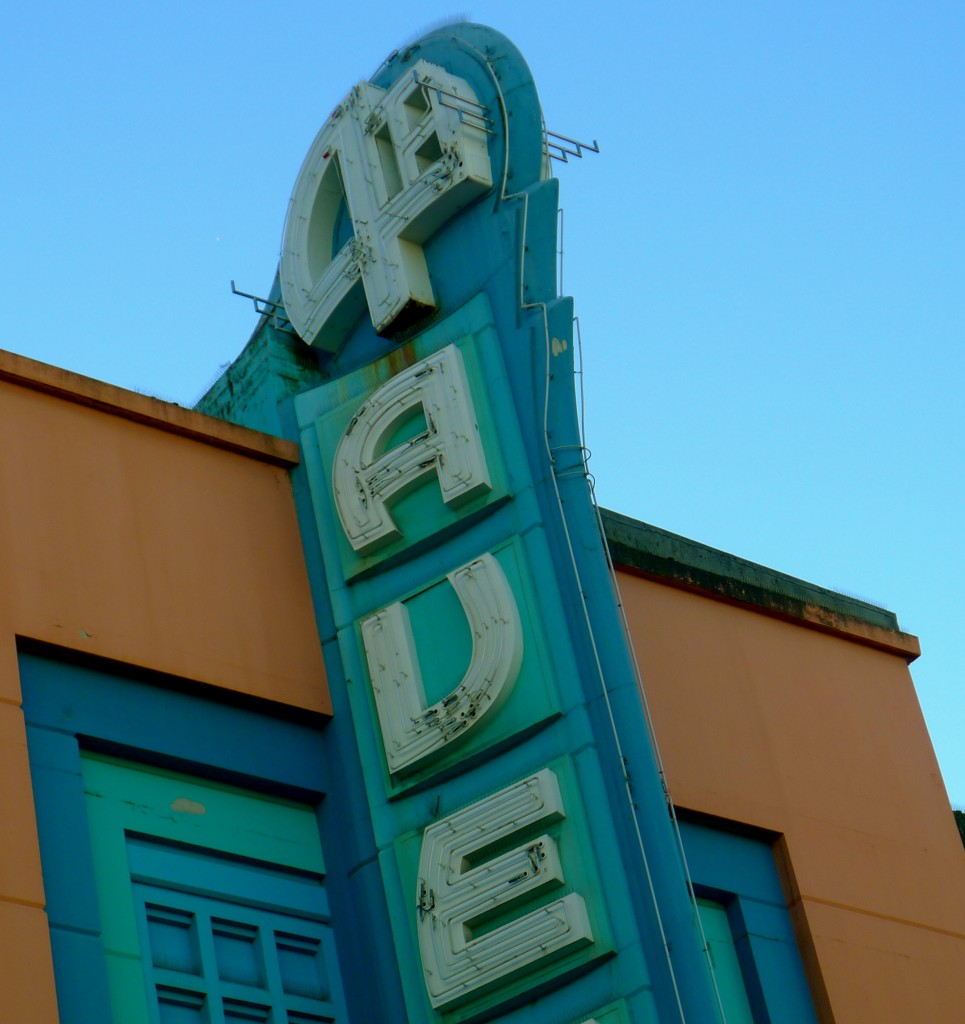 I love the Fourth Avenue Theater. It's so art deco retro, and I have many memories of good times spent there.  I used to wish that I was the lucky person who got to live in the penthouse apartment, or at least that I could see it someday. I can't actually remember seeing a movie at the theater – my memories are of dinner events, performances, and proms. However, I've heard that the balcony was the place to be back when the theater was used for films!
I shared a Visit Anchorage photo of the theater on Facebook the other day, and loved reading about people's memories and dreams for redevelopment (currently, the theater is shuttered, which probably adds to its appeal for the summer Anchorage downtown ghost tours!).
Here's some history for you, straight from Visit Anchorage:
This grand art deco theatre was opened in 1947 by Cap Lathrop, a 20th-century media mogul who wanted to establish Alaska as the Hollywood of the north. Once outfitted with elaborate murals and velvet curtains, the building has been used in recent motion picture scenes and is awaiting a renovation.
And even more fascinating background from Wikipedia (I especially loved reading about the design work!):
The Fourth Avenue Theatre, also known as the Lathrop Building, is a movie theater in Anchorage, Alaska that has been described as Art Deco, Streamline Moderne, and Art Moderne in style. Built beginning in 1941 and completed in 1947 after a halt during World War II, somewhat after the heyday of these styles, it was a large 960-seat first-run theater until the 1980s.
The theater was designed by B. Marcus Priteca, a leading designer of themed cinemas in America, in association with Seattle architect A.A. Porreca for Cap Lathrop, a prominent Alaska businessman. The theater's lobby featured a gold leaf mural of Mount McKinley, but originally omitted a concession stand, a feature Lathrop felt was inappropriate. The main house was decorated with silver and gold murals by Anthony Heinsbergen and Frank Bouman of Los Angeles, and a rendering of the Big Dipper (a symbol of Alaska) on the ceiling. Murals were done on canvas with reliefs in Masonite leafed with gold and silver. The building's structure is reinforced concrete with travertine on the exterior street level. [2]
As the Lathrop Building, the complex included facilities for Lathrop's radio and television stations, a restaurant, and a penthouse apartment added in 1959-1960.[2]
After some renovation by the city of Anchorage, the theater was used by a catering firm as a banquet facility.[3] The theater was purchased by the Rasmuson Foundation in 2008, and according to its plans, it was to be used for meeting space by the Anchorage Convention and Visitors Bureau.[4] Due to the economic recession in the following years, these plans did not come to fruition. In 2011, the theater's new owner, Peach Investments, presented new restoration plans.[5]
The redevelopment ideas were from me (a swanky version of the Bear Tooth Theatrepub) and from Shannon, who dreams of "a multidisciplinary (both non-prof and for-prof arts)–with a shop selling locally made arts and creative goods!" Maybe we should combine the two? I just hope that rumors of a Hard Rock Cafe don't come true…
What do you dream for the future of the Fourth Avenue Theater?