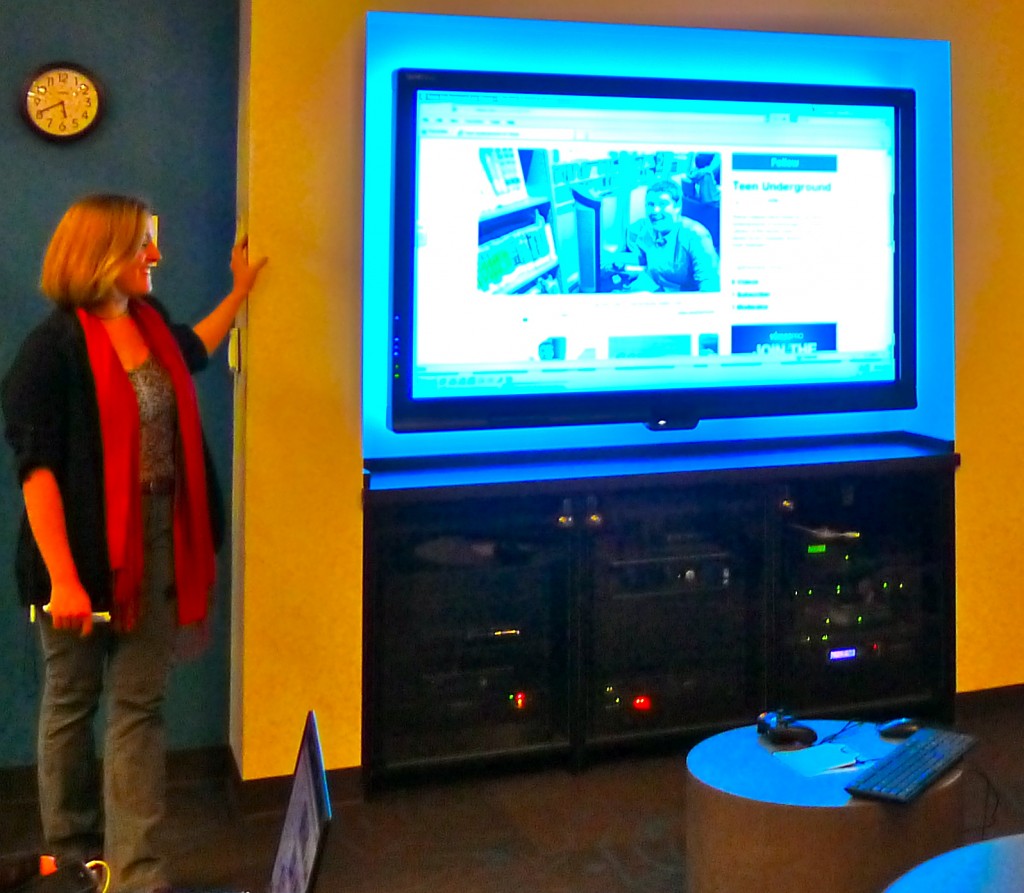 Do you know about the Teen Underground?  It's a project that was gifted to Loussac Library by Anchorage Downtown Rotary and many generous donors a couple of years ago – I went to the ribbon cutting, and marveled at the colorful, sleek, fun new space, but didn't visit again until yesterday when the library board got a tour.
Not much would make me want to be a teen again (although I do miss my mom making me dinner every night, being able to run really fast, and a general sense of fearlessness) but all the programs at the Teen Underground appeal to my geeky little heart, and I would have loved them even more when I was a teenager.
Some cool things:
Video Club: experts from the Alaska Teen Media Institute come to teach movie making skills.  Videos are posted on the Teen Underground Vimeo channel (and are hilarious in the way only teenagers can be). Tuesdays, 3:30 – 5:30.
Teen Writing Society: all the members are working on novels or short stories. Wednesdays at 6:00.
Upcoming project: decorate for a Valentine day party and an anti-Valentines day party (the anti party involves destroying all the decorations)
Recent project: crown crafting for a toddler disco party
Technology whenever you want it: Smartboard,10 MacBooks, XBox, and a PS3
Homework help: in person every Thursday at 3:30 or on the phone every day
Gaming: Mondays from 3 -5
Candice, a Vista volunteer, leads the programs at Teen Underground. It's a full circle for her; she grew up doing her homework in the Ann Stevens room at Loussac, and like me, wishes there was a Teen Underground in her day. She crackles with energy and enthusiasm, and I hope the library can find a way to keep her when her Vista year is over (and that she wants to stay!).
The president of the Teen Underground board, Melody, is a liaison to the Library Advisory Board, and keeps us updated on all the happenings, but it was inspiring and reaffirming (in terms of why I volunteer for Anchorage Public Library) to visit in person.  Melody is awesome.  She comes to all of our meetings, participates fully, and is a great representative for the Teen Underground.
Official description:
Teen Underground is located on the 3rd floor of the Z.J. Loussac Library in midtown Anchorage. This hangout is exclusively for teens ages 12-18 where making noise and having a good time is allowed!
The high-tech, vibrant Teen Underground opened June 10 in the Z. J. Loussac Library. The space for teens aged 12-18 includes Smart Board technology, iPads, a MacBook learning lab and a new teen book collection. Teen Underground is a joint project of the Anchorage Rotary Club and the Anchorage Public Library, with support from the Anchorage Library Foundation.The Teen Underground project is part of a national initiative to create teen leaning labs in libraries. The project was inspired by YOUmedia at the Harold Washington Public Library in Chicago, a nationally-recognized teen center.
The project was made possible by Anchorage Rotary Club project leaders Cheryl Myers and Carol Butler and a team of over 40 volunteers and technology, construction and design firms. Teens from the Anchorage School District Student and Library Teen Advisory Boards worked alongside the Rotary team to provide teen input and support. Over $200,000 in private support was raised in three months to make this project possible.
The Teen Underground has been so successful that the library hopes to create similar teen spaces in neighborhood libraries, and when the Loussac library is renovated, the Teen Underground space will be about four times bigger, with even more opportunities for teens to explore, create, learn, and play.
If you are a teenager, or know a teenager, stop by and check out the Underground!