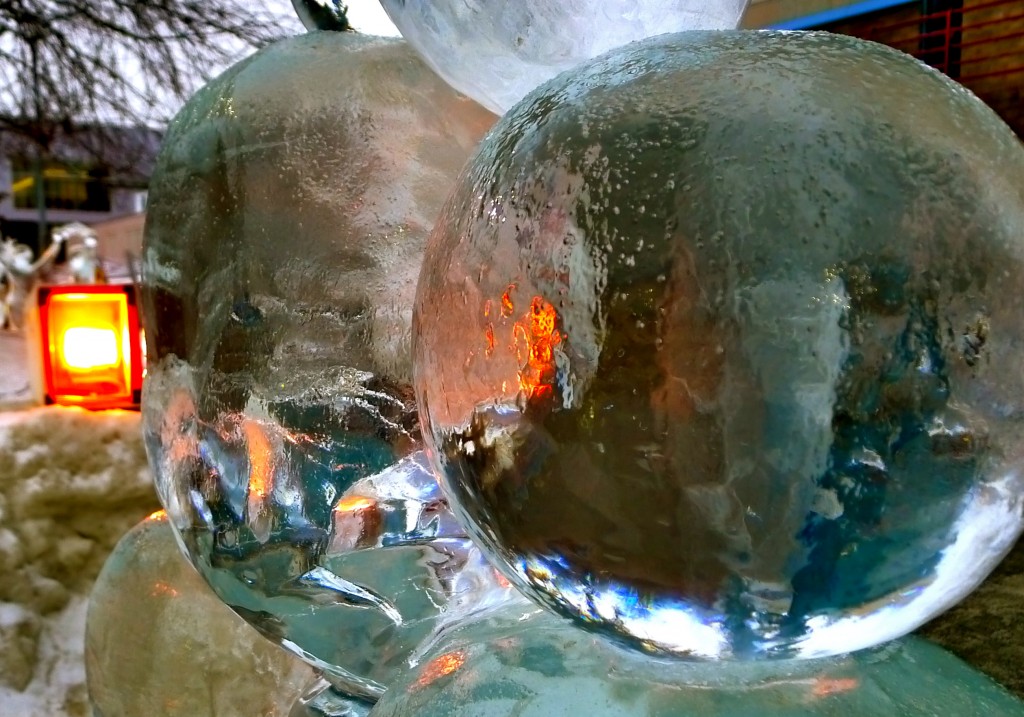 On Saturday, on the way to brunch with my parents and husband, it started to rain.  Just a little bit.  But it made us realize how warm it really was (I think it was around 46 degrees at height of thawing…so wrong for January!) and as we drove by town square filled with beautiful ice sculptures, we knew that we needed to return ASAP before they melted into dripping ice blobs.
At brunch (how great is it that Snow City now takes reservations? We only had to wait about five minutes!), fortified by hot coffee and spinach salads, we decided to brave the drizzle and walk through the Crystal Gallery of Ice. Ice carvers come from all over Alaska (and the world) to compete in the competition.
Favorites were a mermaid and monkey in a boat, a Chinese village, and the ice fountain with engravings of Anchorage city scenes.  The spinners, which are like the tea cup ride at carnivals, except solid ice, were a huge hit with all the kiddos running around.
I really wanted to visit during the evening, when the lights installed around the sculptures really show off them off against the darkness of night (and it's easier to take photos; ice against grey skis = not very good photos to share with you) but we were worried they wouldn't even last that long.  I'm so glad we went when we did – after three days of thawing, everything froze again, and then today it snowed. I'm pretty sure the sculptures are close to unrecognizable.
Here are some videos of the carving in action: Ice Carving, Anchorage, AK; the Anchorage Daily News photo gallery: 2013 Crystal Gallery of Ice; and some night shots too.
Thanks Anchorage Downtown Partnership for yet another fun event!