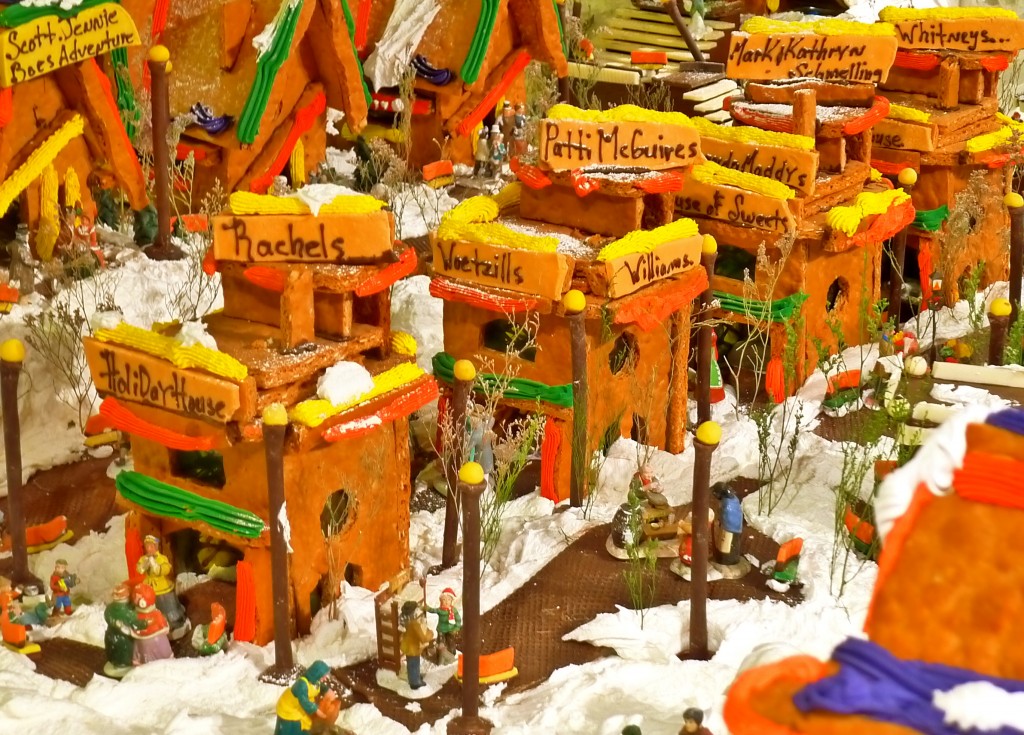 Somehow my list of things I wanted to do during the holidays got away from me.  I missed Tuba Christmas, ran out of time to drive around listening to Christmas music and look at lights, and only drank one eggnog latte (fortunately, there will be another Christmas in only twelve months). I did, however, fit in a trip to the Captain Cook Hotel's Gingerbread Village on New Year's Day.
I'm sure I must have visited the village at some point in my life, but I can't seem to recall it.  I was surprised at how large the village was, and how detailed!
Here's a cool video by KTUU  of Chef Joe Hickel talking about the time and materials that go into the village:
550 lbs sugar
200 lbs chocolate
128 hours in the lobby
175 – 200 hours downstairs (in the kitchen?)
Joe says that village is based on telling a story, and the names you see on houses and buildings are all those of people he knows.  He also says that there are two moose hidden in the village – it's like an Alaska-style Where's Waldo.
More photos here: Captain Cook Christmas.
Of course, the best way to check out the village is to visit in person!  I'm not sure how much longer it will be up, but you can take a peek via the live web cam by Borealis Broadband to make sure it's still there, and then run over to take a look.
Speaking of not being there… when they take it down, do they let people nibble on it?  Does it taste good?  I kind of like stale candy.  I bet little kids would be so excited to get a bite of the village!  If they offered, would you eat some of it?