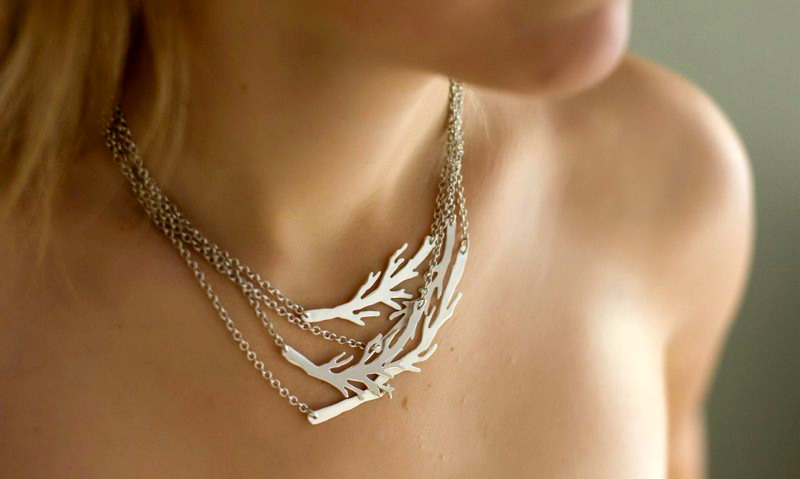 Have you discovered Ashley Maury Jewelry yet? It is sculptural and organic, simple and elegant.  Not to mention just plain gorgeous.  Every time I wear one of her pieces people compliment me on how beautiful and unique it is, and I love being able to say that a friend made it.
Ashley works in metal because "it is a rigid material that can be manipulated into many different forms."  She takes it from wax to cast to finished piece of wearable art. I have a pair of earrings she made that reminds me of still water after a stone has been dropped in – she captured the splash in silver, frozen in time, dangling from my ears.
Here's a bit more about her process (grabbed from her website):
My work is an ongoing exploration of how jewelry interacts with its wearer while pushing the limits of casting and minimalist design. Like a sketch artist with a pencil, I use a strip of wax to create my figure. I consider each piece as a case study, first as a test of my ability to create minimal connections that will push the limits of casting, next to finish without disrupting the original wax design, and finally as adornment; a test of the wearer's comfort with wearing a silver sculpture. I participate in the whole process by creating the wax model, casting, finishing, as well as interacting with my customers.
At her last show, I fell in love with a pair of earrings that look like woven strips of silver ending in little flowers (and plenty of other pieces too, but these were the stand-out for me). I have a bit of a weakness for Alaskana (I have a forget-me-nots on my ankle, love snowflakes, the big dipper, antlers, and countless other little Alaska-ish things) that I try not to give into because sometimes it's a bit cheesy (especially if you live here!).  The wonderful thing about these earrings is I get my wildflowers without looking like I got carried away.
Other pieces I love are her bracelets that trace a mountain against the horizon, a ring of silver and sea urchin, and her surface tension brooch.
I luckily received the branch earrings and necklace as gifts, and wear them all the time.  I love that "branch" could be from a tree or from coral, earth or ocean.  Which is very appropriate, considering that Ashley is originally from Halibut Cove, where earth and ocean meet again and again.
If you'd like to check out Ashley's work in person, she'll be at the G Street Fox this Saturday (Dec. 15) from 12 – 3.  
I highly recommend dropping by; Ashley is wonderful to visit with, and her work is outstanding. Each time I see a new show, she gets better and better, and there are new designs to admire and old favorites to drool over.
*Photo by April Frame