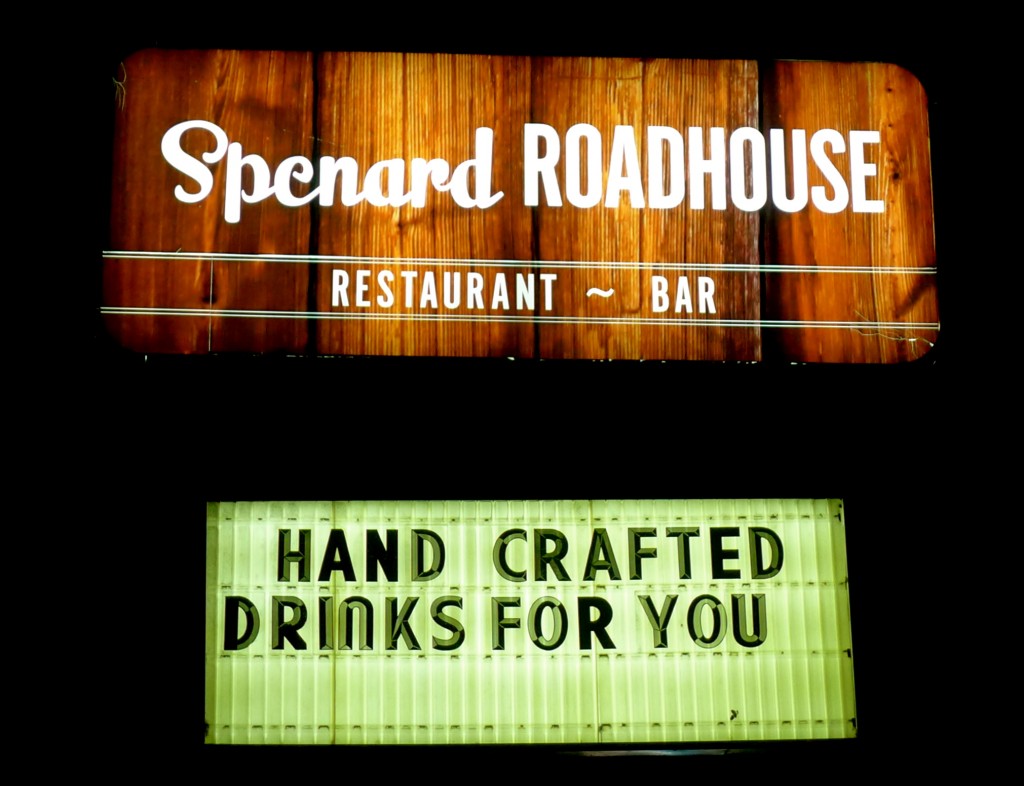 Spenard Roadhouse is one of my favorite restaurants.  I love the food, the décor, and pretty much the entire warm, lively vibe of the place.  Plus, it's all served up with a huge dose of fun.
As Peter Kageyma says, "surprise and delight," and I think the Roadhouse does a good job with that.  I love ordering a drink and finding a little circus animal or mermaid perched on the side of the glass and the cool postcard they leave you with your bill.
A few weeks ago my husband and I went out for dinner and sat in a cuddle booth (okay, a corner booth – but they are perfect for cuddling!) in the bar area, which is great for people watching.  I always seem to bump into friends at the Roadhouse, which is part of the fun.  This time around, I scored an invite to a hard hat tour of a cool project being built downtown – more on that later!
The Roadhouse uses locally grown ingredients as much as they can, has a focus on bacon, bourbon, and tater tots (so random it's cool) , and sometimes do special events, like the Beer Dinner we attended last winter.  It featured the Kenai River Brewing Company, and was awesome because my husband loved the IPA, and I liked chatting with the brewers, the beer-can chicken, and checking out the new cans (for some reason, I think it's oh-so-cool that a lot of AK breweries are now doing a can option; better for fishing, I've been told. You can leave your beer in the creek while you fish and have a cold one when you're done! ).  I'm hoping they'll do more similar events in the future! And, if you're interested in their beer-can chicken (it was GOOD), I noticed it's occasionally re-featured as a special!
I remember when the building that is now the Roadhouse was Hogs Brothers.  For some reason, the boys on our cross-country running team loved going, maybe because it was inexpensive with huge portions and they were starving all the time due to being 1) teenage boys and 2) burning tons of calories at running practice.
I wasn't a fan; the restaurant was decorated in shades of beige and brown with pig themed accents, and the food wasn't really my style. It makes me so happy to walk into that same building now, where it's always warm and lively, and I can order things like fried brussel sprouts, a virgin hot toddy, beignets, a fish taco, the veggie platter (always new and interesting) or a Simple Love Mimosa (sparkling wine, fresh grapefruit juice, and muddled basil). Mmmm mmm.
The owners seem to have figured out how to run a successful restaurant in an industry in which 60% of new restaurants fail during the first three years.  They also own Snow City Café and Sacks Cafe, two of my other favorites. My only complaint about their restaurants is that they're so popular, it can be hard to get a table!
If you haven't been, check out the menu – trust me, it's delish.  What's your favorite thing to order at Spenard Roadhouse?