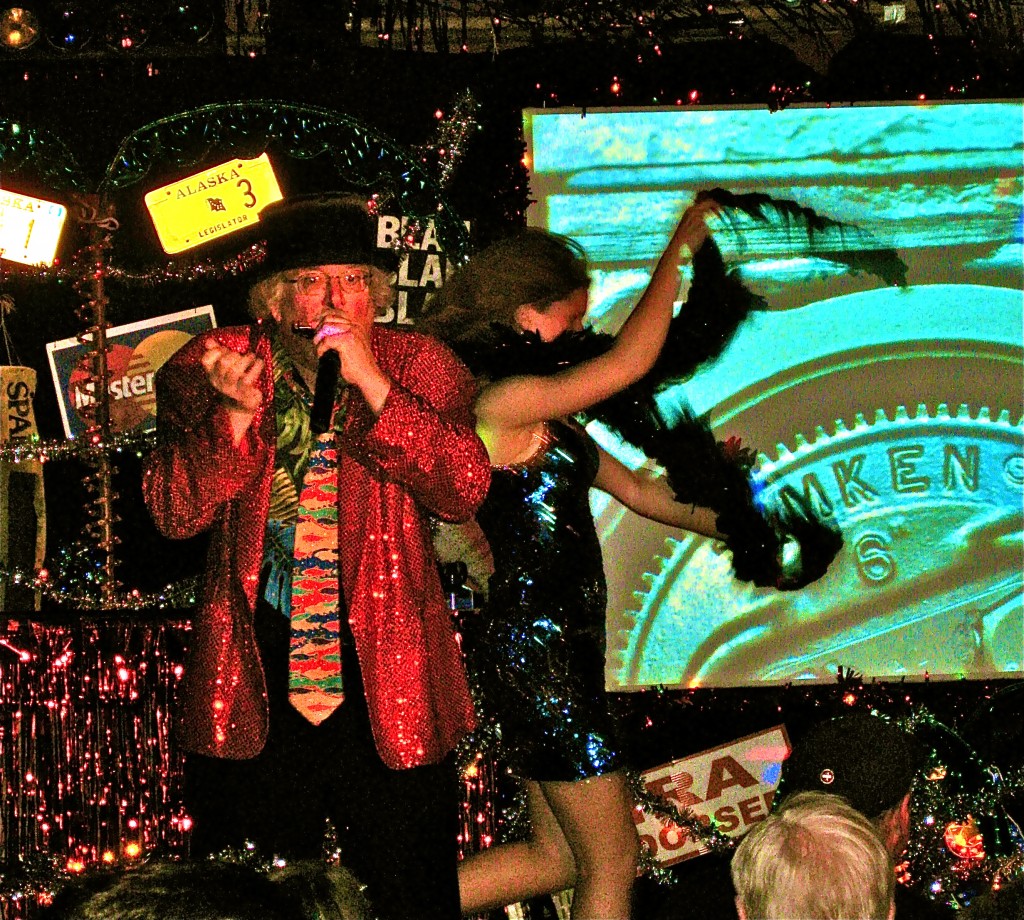 "Christmas in Spenard" is back at the Taproot!  It's wacky, tacky, irreverent, and generally hilarious.  It's not all Christmas-themed; they throw in a good dose of political skewering, Alaska humor, and a dash of Spam just so that they don't forget their roots.
They sing, they dance, and they make you laugh so hard you choke on your drink – get your tickets now!
Seriously though, if you're looking for something fun to do before Christmas, I highly recommend this show.  The Taproot is a great venue (and I love that it's gone full circle – formerly the Fly By Night Club, aka the sleaziest bar in Spenard and home of the Whale Fat Follies and Christmas in Spenard for 21 years, it was sold in 2006;  I think it changed hands a couple times, and is now the Taproot, but with Mr. Whitekeys back in action for limited runs of his shows), the food and drinks are good, and overall it's a wonderfully fun way to spend a cold winter night.
Here's the official write-up:
"Christmas In Spenard" is two hours of satirical Alaskan musical comedy, a spectacular High Definition multi-media presentation, and approximately three minutes of sentimental holiday fluff.
The show proudly presents a live band, stunning singers and dancers, over 800 awe-inspiring images of Alaskan stupidity, and a costume budget of well over Forty Two Dollars. We've raised this by $7 since our last production because YOU are worth it!
The TapRoot's tantalizing menu of fresh tasty American comfort cuisine and beverages is available. WARNING: It's like a real dinner theater, but "Seasonal Vegetables" might mean Fruitcake.
Joining Mr. Whitekeys on stage is the All Star "Whale Fat Follies" cast including stunning chanteuse Miss Bridget Sullivan and the devastatingly hilarious Kelly Lee Williams. According to Mr. Whitekeys, "All we have to do is take a tacky, sleazy, slimy, lying, cheating, backstabbing, disgusting political process; combine it with a warm fuzzy Holiday feeling; and set it to happy toe-tappin' music!"
Random aside: Mr. Whitekeys is a ridiculously talented musician when he isn't doing the comedy bit (he's talented during the comedy bit too, but for me at least, laughing hysterically keeps me from appreciating the music as much as I'd like to), and if you ever get a chance to see him play, get there as fast as you can (after you call me to let me know where and when!).