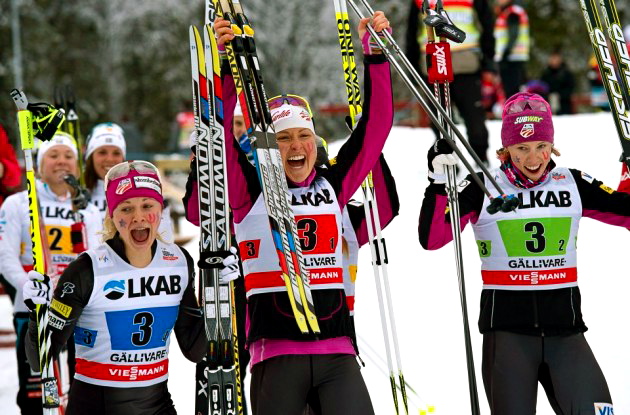 I have to pile on to the jubilation that is happening right now on Facebook, overseas in Sweden, and in XC skier's homes all over the U.S because it is so ridiculously exciting:
Our women's team (Kikkan Randall, Holly Brooks, Jesse Diggins, and Liz Stephen) placed THIRD in the 4 x 5k World Cup relay!
If you've followed U.S. XC skiing at all, you know this is a huge victory.  And if you don't, then take my word for it – it's cause for celebration!
You can find a great write-up of the relay race on FasterSkier, and check Holly's blog for a first-hand account (nothing posted yet, but keep looking!).  Alaska Dispatch also has a good article.
It's been a big weekend for the team, especially Kikkan and Holly (hooray Alaska!), who placed 3rd and 5th respectively in the 10K yesterday.
XC skiing is hard work, and making a go of it at the level these ladies are at is even harder.  Countries like Norway and Sweden treat their skiers like rock stars, or at least like NFL and NBA players.  Since XC skiing is a lesser-known sport in the U.S. (and therefore without the resources of big time pro sports), many of our athletes still have to work (and the time that training takes could be a full-time job) or string together sponsorships to fund their pursuit of the sport (or both).  And of course, chasing the snow and traveling to races around the world is a pretty nomadic lifestyle, with lots of time on the road, far away from loved ones.
There are plenty of upsides too – doing something you love, seeing the world, building bonds with your teammates, never having to ask "what if" because you answer it every day, and having a helluva lot of fun. Regardless, it takes a lot of grit to do what Team USA is doing, which makes achievements like the ones this weekend that much more rewarding.
I know I'm terribly biased, but I think that Anchorage is really leading the way for U.S. skiing.  Back when I was skiing in the '90's (ack, so old!), programs like Alaska Sports Academy and Winter Stars were being born, and added a whole new level of training and competition to the local ski scene.  Later, the APU Nordic Ski Center was founded and more athletes began taking advantage of summer snow at the Thomas Training Center on Eagle Glacier. Improvements were made to ski trails around town, especially at Kincaid Park (my favorite!).
Alaska has always had its share of great skiers, and it seems like every year they keep getting better, which I absolutely attribute to excellent coaching and increased training opportunities for our athletes. There is so much potential for our skiers to keep being players on the world stage, and I hope that our community does whatever we can to support them.
I don't really consider myself much of a skier anymore, although I have wonderful memories of skiing – there's nothing like the feeling of when training and technique (and wax) come together as you fly along a trail with your teammates (yea Westside girls!).  These days, I'm a recreational slow poke at best (although I still have a strange affinity for lycra), but reading about the races in Sweden, and seeing the U.S. competing on the same level as the Europeans, gives me a little buzz of excitement and adrenalin, and makes me want to get out on the trails.
Congratulations to Holly, Kikkan, Jessie, and Liz!  And congrats to your coaches, wax tecs, families, friends, and everyone out there cheering for you. What a fantastic day for U.S. XC-skiing!
*I snagged the photo from Johnny Klister, who I think grabbed it from Getty…  I will take it down if it's not okay to use it. But it's an awesome photo, so I hope it's okay to post it here!