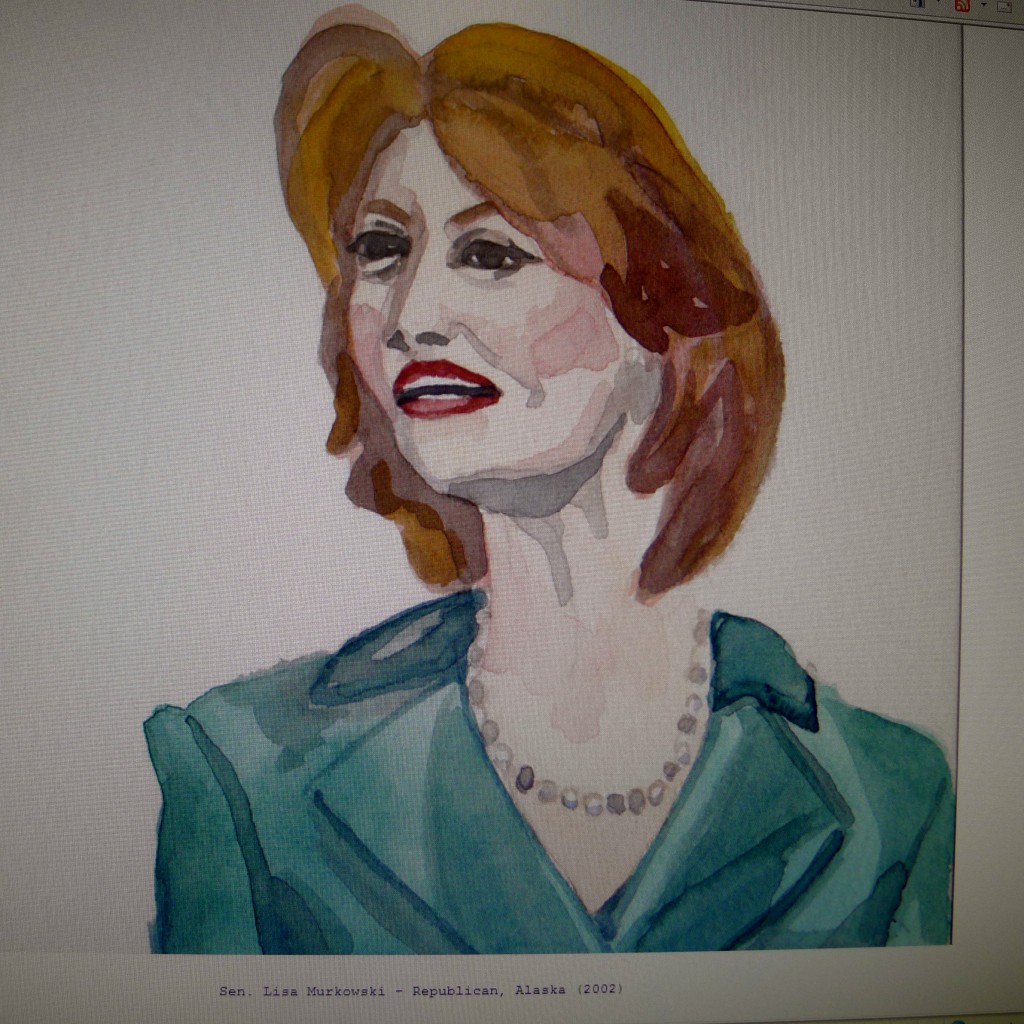 I stumbled upon Women of the 112th one day, and have watched it ever since to see when Lisa Murkowski's portrait would be painted.
At last, here it is!
The artist, Emily Nemens, writes in her artist statement:
I've painted all the members of the 112th United States Congress (roughly 94, give or take a few House resignations) in watercolor on 6" x 6" paper. Lined up edge to edge, they cover 47 feet.
These portraits, which use public appearances and official portraiture as source images (all found via online image search), are arranged chromatically. I want to both honor the breadth and diversity of women in power, but also bring attention to certain disconcerting characteristics that emerge when taken as a whole: the rainbow of power suits, the big hair, the gaudy jewelry and toothy smiles — and the idea that they collectively are only 17% of  Congress. The scale (small) and medium (a kind of neurotic, if not photorealistic, watercolor) play with the notions of beauty and power: these politicians are necessarily one part peacock, one part Fabergé. It reminds us that there is still a different set of expectations for women in power than the navy suits and red ties of their male counterparts. I think it's especially pertinent to see the lineup now, as another election season swings into high gear.
My influences span from the sly political portraits of Francisco Goya (I studied art history in Madrid) to Elizabeth Peyton's drawings of her friends to activist comic books (I wrote and illustrated a graphic novel about the 2004 Madrid train bombings and contributed to a Studs Terkel anthology).
I think this is really cool, and love scrolling through all the watercolors.  I also love her happy comments after the last election.
She posted graphics stating that "184 women ran for Congress this year. Nearly half were elected," and "29 women of color will serve in the new Congress," and then exuberantly followed up with "I've never been so excited to paint."
I've never been so excited about watercolors of politicians!  Thank you Emily, for creating such interesting work.