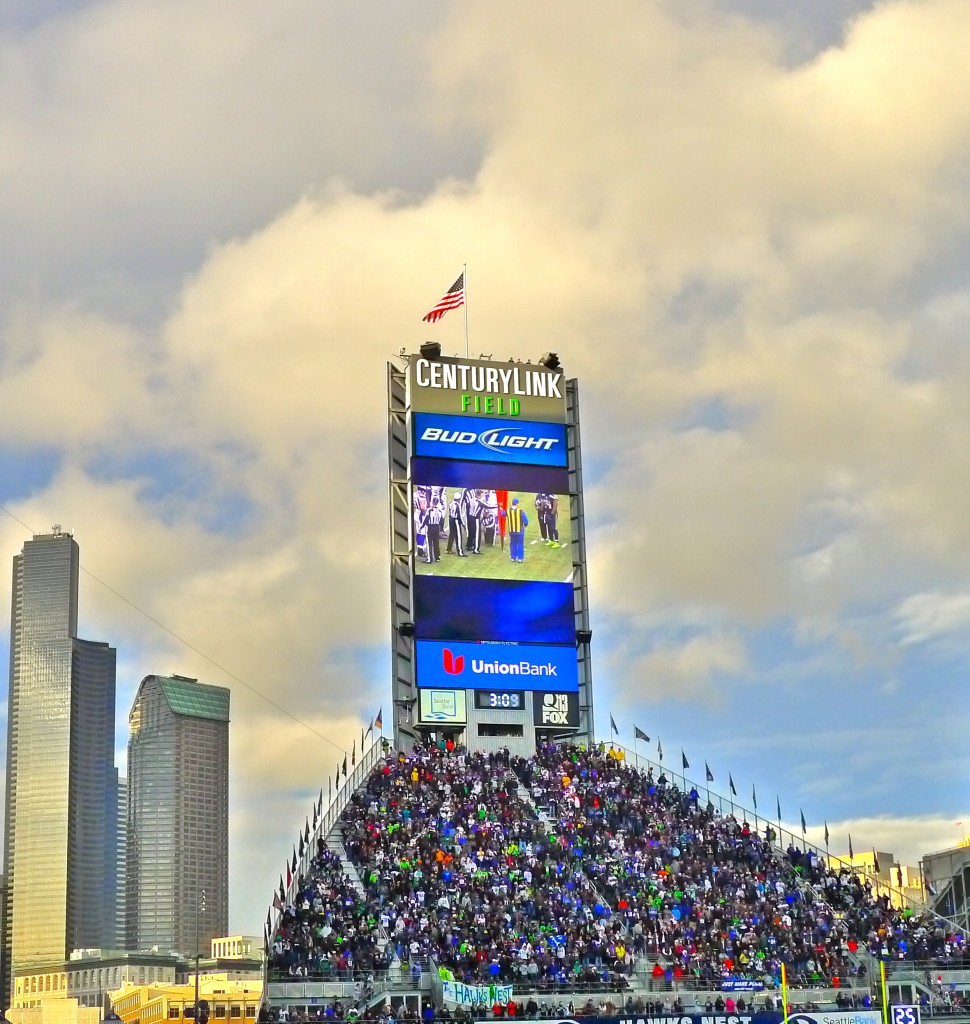 My "loving Anchorage" connection in this post is a little weak, except for loving the relatively close proximity of Seattle to Anchorage.
My husband and I recently returned from a trip to Seattle. It was wonderful on multiple levels:
My husband is a lifelong Vikings fan, and we got to see them play the Seahawks! Unfortunately, they didn't win, but at least he got to see them live and I got to experience my first pro football game. It was pretty incredibly, and I enjoyed the pageantry of it: the fireworks, national anthem, cheerleaders, stadium, marching band, athleticism, and the sheer size and noise of the crowd. We got to share the experience with my brother- and sister-in-law who are also big fans.
We were pretty spoiled in terms of Seattle friends showing us around and taking us to fun places to eat. I totally geeked out over the city (even though I've been there plenty of times, I still turn into a tourist and gaze out windows at all the beautiful buildings, landscaping, lights, and people) and soaked in everything I could learn about the various neighborhoods, new developments, public transit, and local election issues. I've always loved Greenlake and Tangletown, but this time I fell for Capitol Hill and downtown too.
My friends humored my love of furniture stores and took me to some of my favorites that we don't have in Alaska: Room and Board (just opened in Seattle – love love LOVE it!), West Elm, and Crate and Barrel. I've been drifting off into decorating day dreams ever since. They also took me to Whole Foods…someday Anchorage, someday!
There are still so many fun things I want to do in Seattle. My brother- and sister-in-law did the underground vampire tour of Seattle on a previous visit and said it was really fun, so I'm already plotting ways to work it into my next trip. Along with looking at houseboats (I've been obsessed for years), checking out a treehouse hotel (just the fact that this exists makes me happy), shopping at out Glassybaby (random, I know, but I love their story and the colors are luring me), getting a behind the scenes tour of the Burke Museum, riding the downtown ferris wheel, spending some time with my cousins, walking through the public library, and somehow fitting in a trip to Walla Walla and Whidby Island. And going wine tasting and visiting a lavender farm. And maybe trying to see what a fully developed geoduck farm looks like, and then eating one! So many fun things to do…fortunately some of my favorite people in the world live there and are very generous in letting me be touristy when I visit!
Despite all the fun that we had, sometimes a bit of time away makes coming home feel so sweet. I loved our mini-vacation, but I really love coming home to our cozy little condo in Anchorage.