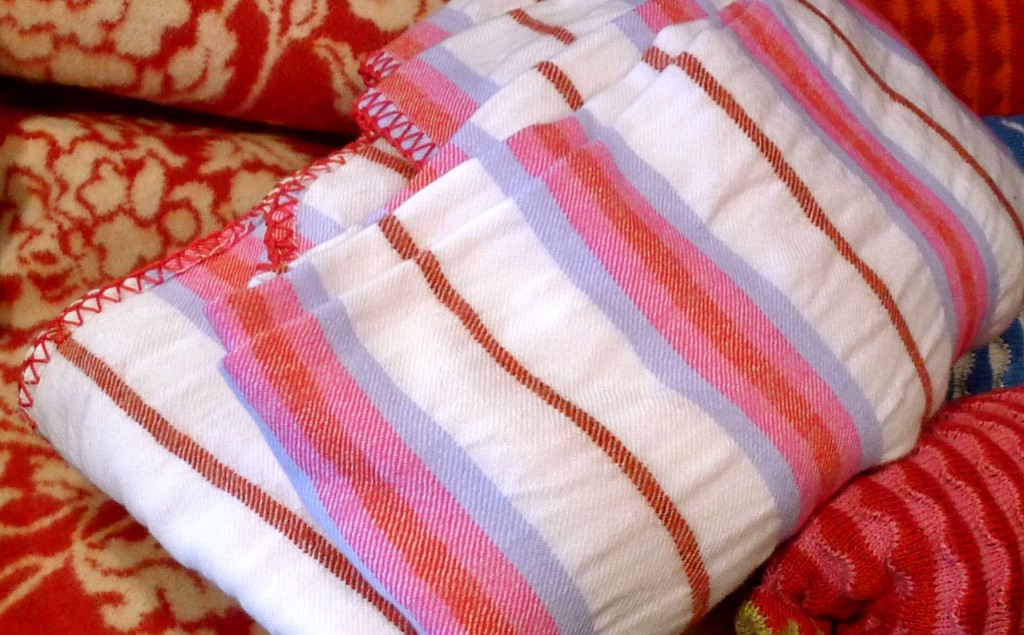 Have you ever visited Siobhan's in the Captain Cook Hotel?  It's like walking into a warm, colorful, scented portal to another land (especially nice when it gets chilly outside!).
I love browsing through all the odds and ends that Siobhan brings back from her annual shopping expedition.  She sells only goods that are made in Europe or the U.S. (mostly Europe, I think) which makes for a very distinct flavor of shopping. The packaging, designs, and goods themselves are unique, and definitely not something you can purchase elsewhere in Anchorage.
Siobhan's signature line is Oleana, which is comprised of Norwegian-made wool sweaters, blankets and accessories.  I've been in love with Oleanna's designs ever since I first walked into Siobhan's – they are vibrantly colored and patterned, and I like to pretend to myself that my Scandinavian heritage (some tiny percentage of my ancestry) guides me in my sweater dressing and clog donning outfit selections.
Also, the Oleana story and purpose is pretty cool:
Oleana started in 1992 in the hope of creating new jobs in the textile industry in Norway. Most of Western Europe's production has been moved to countries with far cheaper labour, but we wanted to show that it is still possible to produce in a high-cost country like Norway. We have always tended towards alternative thinking and going against the main stream.
People all over the world are becoming more aware of what they buy. By thinking more about the choices we have when we shop, we can share in taking care of our planet. Clothes made from natural fibres, like wool and silk, are good environmental choices.
The other thing I like to browse for at Siobhan's is soap – she's picked out some dreamy hard soaps that are beautifully scented and shaped.  I love the lilac soap from France (it actually smells like real lilacs, which has to be one of the best smells in the world – I can't pass a lilac bush without stopping to sniff, and lilac fragrance in bath products usually doesn't smell like the real thing) and the sea salt soap, which has a light, but very fresh and clean fragrance.
My very favorite thing to look at in the shop is the Oleana blankets.  I want to wrap myself up in them and lose myself in the colors, à la the photos below. If you do buy a blanket, and don't have a wool wash cycle, Siobhan will wash your blanket for you.  That's some serious customer service!
Here are some photos of blankets from the Oleana advertising campaign – so pretty!