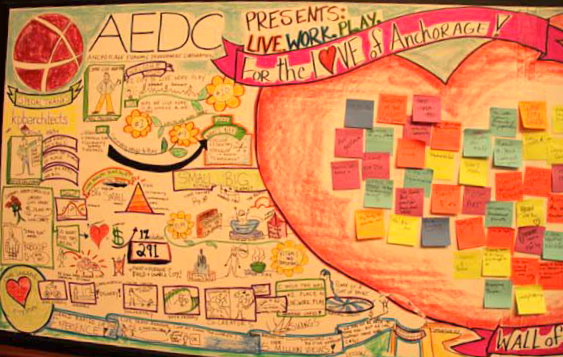 One of the most rewarding things I've done this year is learn about Peter Kageyama, author and speaker. I've participated in two of Peter's For the Love of Anchorage workshops (courtesy of AEDC) and read his book, "For the Love of Cities."
I've already blogged about these experiences a bit, but wanted to share more about Peter's philosophy.
"For the Love of Cities" focuses on:
..the emotional connections that we have with some places versus others and the benefits that accrue to communities that are able to tap into that emotional wellspring.
Here are some interesting takeaways:
40% of people consider themselves unattached to a place, 36% are neutral, and only 24% are positively attached.  And the bar to be considered "positive" is set pretty low.  Basically it means you vote and volunteer once or twice a year.  By this estimation, I am head-over-heels-lets-get-married-and-spend-every-minute-together in love with Anchorage, but I kind of already knew that.  Of course, even the best relationships need a break now and then (spending EVERY minute together is a little intense, I think) so I consider the occasional trip to Outside a sign of a healthy relationship.
Places that have the highest level  of passion, loyalty, and attachment also have the highest local GDP growth. Love matters; it leads to thriving cities.
People expect functional and safe cities.  They aspire to comfortable, convivial, interesting, and FUN cities. This is especially interesting to me, since I volunteer with Anchorage Public Library, and when we run into funding debates, a common refrain is "do you want police and fire, or do you want books and parks?" It's easy for decision makers to rely on functional and safety, and overlook the "fun" stuff.  For the Love of Cities makes a case for the fun stuff, which I think is incredibly important to the health of a community (and I'll save my reading-is-important stats for another post).  Which leads me to the next takeaway…
At your next meeting, ask "Where's the fun?"  I LOVE this.  Sometimes it seems like the fun gets lost, but that's the part that inspires and engages people within an organization, and compels and connects with people outside an organization. Even government can be fun; I have a lot of fun at work, but want to have even more!
Public art that gets nicknamed is generally loved.  Example: the "bean" in Chicago. Here's a test – if I say that I'm visiting "The Hulk" which statue do you think of? What if I say "The Faces?" There are my own nicknames for art, but I'm curious if they resonate with anyone else!
Pedestrian-only spaces attract people. Example: Now that Times Square in NYC is pedestrian only, the locals are starting to spend time there.
When kids are happy, parents are happy. Bring on the all ages music and skateboarding!
A year-round sense of play is important to city development, so for Anchorage, this means lots of opportunity for WINTER play.  The ice sculptures downtown are a great start – what else can we do?
Think about someone's face when they are surprised and delighted; it doesn't come from potholes being fixed, it comes from a touch of whimsy.  I wholeheartedly agree with this – little things that are secret surprises make me so happy, even if it's just a design in my latte foam, or a beautifully colored and pattered silk lining inside a jacket. There are so many little things that we could do to surprise and delight in Anchorage!
People like tradition and rituals – here's a cool one in Providence, RI: Waterfire
Don't design cities in service to the car.  Design them for walkers, bikers, and in Anchorage, skiers.
Dogs create closer and friendlier interactions – they are social capital building ice breakers. I can personally attest to this one! We've met so many wonderful people since Grover came into our lives.
Pretty cool stuff, right? If you want to read more, here are some excerpts from "For the Love of Cities" (although, I highly recommend reading the whole book!  E-book or in print…or you can borrow my copy!). From Peter:
Excerpt – "Why Lovable Cities Matter"
This section from the beginning of the book outlines the economic, social and psychological reasons why our relationships matter to us as human beings.
Excerpt – The Continuum of Engagement
We are all in a relationship with our community and this section looks at the degree to which we are (or aren't) engaged with our places.
Excerpt – "Food is Love – aka Can She Cook?"
In looking at what makes cities lovable, I equate many things to our personal relationships. And one of the things that binds us together and is often core to our relationships is food. Here I look at how local foods are tied to community identity and how one community is actively using that connection to recruit talent.
Here are some more examples of fun things other cities are doing (click the link to see):
One of the exercises of the workshop was to come up with an idea to show love for your city for $500.  At the first workshop (this is the part I missed) the favorite idea was a "March of the Snowmen" which involves snowmen being built all over town. I missed the exercise the first time around, and was so disappointed – I would have loved to listen to all the ideas!
My group's idea at the second workshop may have exceeded $500, but we thought of doing a "Fish-teval" in the spring to kick-off fishing season.  I've long thought it would be cool do a Blessing of the Fishermen (kind of like this, but more lighthearted, nondenominational, and with a salmon focus) right before fishing season begins, maybe combining it with the Salmon Run (extra points if you run in waders or hip boots). From there, and group came up with a whole festival – ahem – Fish-teval, complete with salmon cooking demonstrations, a parade with a Chinese New Years Dragon-esque salmon, tours of Anchorage Hatchery, fly tying demonstrations, a gear swap, and more. Anyone think we should try to make it happen?
I love Peter's entire philosophy, and after I attended his presentations and read his book, I found myself bubbling over with ideas and excitement for Anchorage. I believe that we can become one of the greatest cities in the country, with a community that loves our city and endless opportunities for play and fun.
What ideas do you have for loving Anchorage?