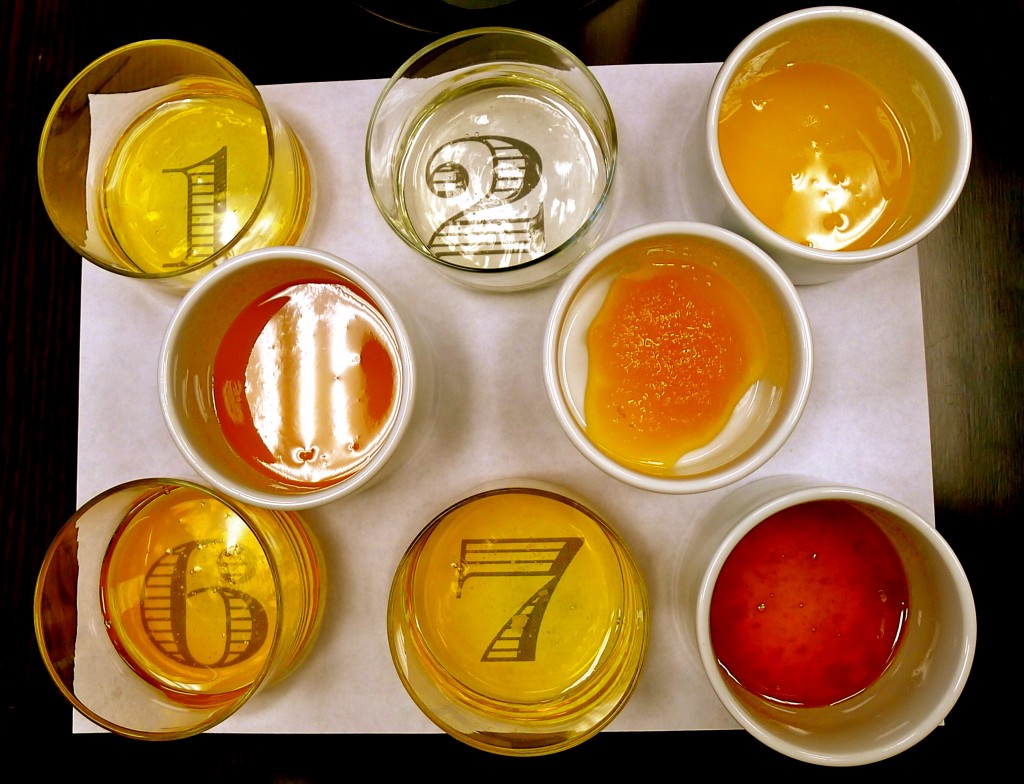 Earlier this month I attended a honey tasting at the Summit Spice and Tea Company with one of my favorite partners in crime, Stephanie.  It was sweet (Haha.  It was an a very punny evening, especially at our table – thanks Mark and Jessica!).
Stephanie and I had never been to Summit Spice, and we instantly knew that we'd found something special. Shelves and shelves full of teas, spices, spreads, jams, salts, and of course, honey.  I didn't get to spend nearly enough time browsing, and will definitely be going back when I don't have honey on the brain.
I first discovered tastings a few years ago when I signed up for Van's Caesar Salad Class at Marx Brothers.  Between learning to make three different kinds of Caesars, we tasted olive oils, balsamic vinegars, and parmesan cheeses (wines too, but wine tastings weren't exactly new to me…).  It was an eye-opening experience, because I'd never thought much about how different versions of each of the ingredients would taste. Lining up multiple options to compare gave me a whole new perspective on how subtle differences in ingredient flavors can add or detract from a dish.  Ever since, I've really enjoyed tastings (on the horizon: chocolate, tea, and cheese).  I also really enjoy honey, so this particular event was very alluring to me.
The first portion of the evening was a presentation by a beekeeper named Greg, who was fascinating, full of random bee knowledge, and says that "Bees are a miracle of creation."
Sadly, Greg's developed a bee allergy, but loves his bees so much he can't quite give it up. Apparently, he pissed off the wrong bee, ignored the warning signs (he says that he can feel the energy and hear the hum of the bees change depending on their mood), and got attacked and stung multiple times (despite wearing his bee keeper suit).
Some honey insights from Greg:
Crystalized honey has been found in Egyptian tombs; when re-liquidized, the honey still tastes good!
Greg smokes moose droppings when he needs to confuse his bees
Hundreds of bees make collective decisions efficiently (that doesn't sound super exciting when I write it, but imagine trying to pick a restaurant with a group of five people, and then multiply that by 100).
British bees are more prone to colonizing that other bees; Italian bees are predisposed to rob the British bees.
The queen doesn't actually run anything; instead, she is an egg laying machine, and when she stops being efficient, she is quietly assassinated.
Female bees are the worker bees; male bees don't do much except eat, and when the females decide they don't need them any more, they force them out of the hive and they die.
So basically, bees don't think twice about killing each other if it will make them more efficient.  They sound scary Type A to me.  Can't you see a horror movie where the perfectionist high school class president goes nuts and starts killing people getting in her way of achieving home-coming queen and early admission to Harvard?  I swear this movies exists somewhere. Anyway, I digress.  I didn't even begin to capture all the fascinating things Greg told us…  who knew bee culture could be so riveting?!
The second half of the evening was when we got to start tasting.  Summit Spice's tea room was set up with eight honey samples each, pretzels for everyone (the bread spreads the flavor, the salt opens the taste buds – honey and pretzels were an unexpectedly awesome pairing!), water, and enough spoons so that you would never contaminate your taste.
Honey tasting directions were to clean your palate, look at the hue and depth of color, inhale the aroma to preview the flavor, and finally slurp and spread the honey around on your tongue until it slowly dissolves (my favorite part, of course!).
Here are the honeys:
I left with the Big Island Honey, a Bee Raw Colorado Star Thistle Honey that we didn't taste during the event but looked appealing, and a random ginger spread that I just had to grab!  All very  tasty.
I loved the tasting – it was fun and flavorful, great company, and something I'd never done before.  Plus, I will probably become a regular at Summit Spice.
YUM.