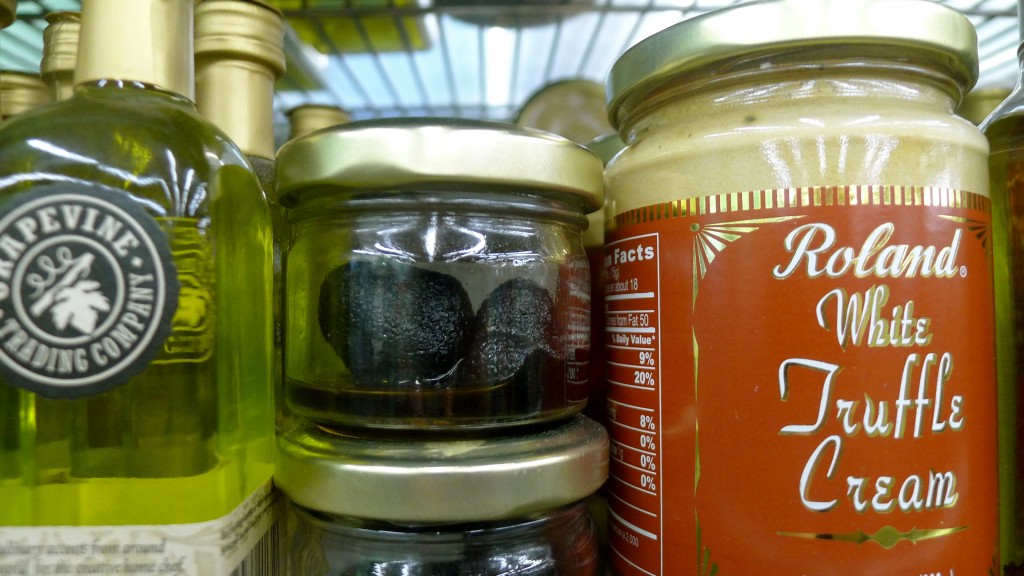 New Sagaya's City Market is a dangerous place.  I could lose hours browsing the aisles.  Even if I've been up and down each one ten times already, there's always something new I haven't seen before.
The other day, I found two tiny black truffles in a jar, snuggled up against another jar of white truffle cream. I wanted to buy them, just to see what a real (albeit jarred) truffle tastes like – I love truffle oil, but decided that I needed to have a special occasion and a special recipe before I took the plunge into whole-truffle territory.
Other fascinating things that I haven't purchased (but am oh so curious about):
Pickled carrots, peppers, and asparagus
Squid ink pasta
 All the different cheeses (one that I have purchased and highly recommend is Yancy's Fancy Champagne Cheddar – oh soooo good! I think it tastes like flowers, yet still cheddar-ey.  Bizarre, I know, but wonderful.)
 A variety of hot chocolate options, not to mention the numerous other fancy non-hot chocolate options (salted, caramel, mint, truffle, raspberry, cherry, pistachio, hazelnut, ginger, and more!) conveniently located by the check out line
All of the Stonewall Kitchen products scattered throughout the store; here are a few that have caught my eye: Salsa Verde, Apple Cider Donut Mix, Balsamic Fig Dressing, Lemon Curd, Apricot Mustard Glaze, Butternut Pasta Sauce, Classic Vodka Sauce, Coq Au Vin Simmering Sauce, Farmhouse Brine, and Holiday Syrup (don't these all just sound delicious?!)
Yum.
See what I mean about it being dangerous though? If I bought, and ate, all of these delectable items, I'd be plenty of dollars lighter and plenty of lbs heavier.
So far I've been mostly able to stick to lattes (of course), produce if I need it for dinner that night, the occasional jam cookies for my husband, and my favorite kettle corn (the name of which I can't remember or I'd be thrilled to share with you). But someday, maybe someday, I'll buy those two little jarred truffles and see what happens.
Do you love shopping/aisle gazing at City Market too?  What's your favorite random thing to pick up there?