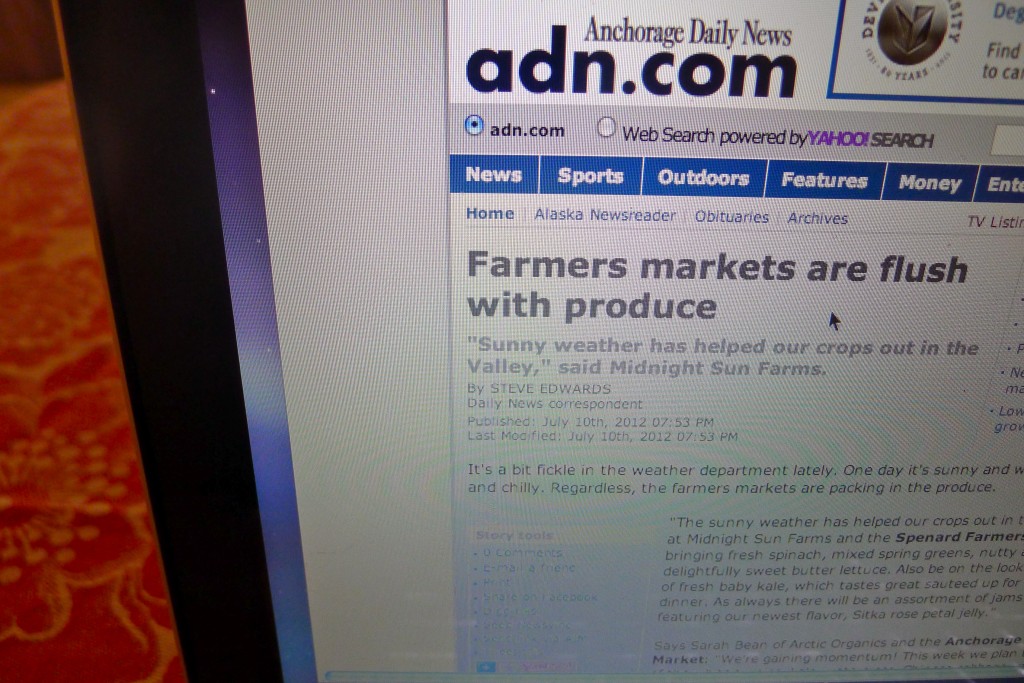 Every Wednesday morning, I drink a sip of coffee and click Anchorage Daily News' latest Market Fresh column by Steve Edwards. Steve and I used to be co-workers, so I'd get to quiz him about his column in person; now that I can't loiter at his desk, reading Market Fresh is a weekly treat that makes me miss working with him – an incredibly talented, warm, and funny guy!  He also writes the Alaskology blog.
Steve pulls together a round-up of Alaskan markets, peppered with quotes from vendors and farmers letting us know what's really hot that week.  He also includes events (honey tasting anyone?  How about the Great Alaska Seafood Cook Off? – both sound fabulous to me!), behind the scenes peeks, and sometimes a seasonal recipe.
Dannon Southall of 10th & M Seafood is usually quoted, and never fails to provide a smile-inducing adjective-filled quote:
"The amazing sunshine-filled days have allowed the fisherman to get out and target the wonderful bounties of the waters of Alaska."
I'd like some wonderful bounties of the waters of Alaska – fresh halibut and salmon, yummmmmm. I think a visit to 10th & M is in my future…or else I'll beg for some of my dad's fresh fillets from his dip-netting weekend!
Some of my favorite things to buy are the oh-so-sweet peas and carrots (did you know that AK has the sweetest carrots on the planet? So says Alex Davis of A.D. Farms) that come from the Mat-Su Valley, cheese curds, fresh berries, purple potatoes, and fireweed honey. I think it would be fun to make a dinner out of ONLY Alaska grown/caught/made food.  I'll let you know how it turns out!
Following Market Fresh is a great way to support small Alaskan businesses in a very tasty way – read the column, decide which market(s) you want to visit, head out the door, and select your treats! I'm looking forward to taking my dog, Grover, to visit the Spenard Farmer's Market and Saturday Market this summer.
Which markets are you going to visit?